Tags
BL Rawiya, BLMorticia, Blood Lust and Erotica, Book Release, Daniel Burnell, Giveaways, Julez S Morbius, Lindsay's Scribbles, Naughty Nights Press, Poets, Something Fresh Served Hot, Star Search
Not only has STAR SEARCH by Julez S. Morbius and POETS by Daniel Burnell been released early by Naughty Nights Press, but so has SOMETHING FRESH SERVED HOT by BLMorticia.
So now have you got your clicking finger and book buying skills on the ready and don't forget you need to have your calendar up and ready so as you can take note of the following dates where you can go and read interviews being held with the authors and be in the running to win a copy of their book.
We make entering extremely easy; all you have to do is leave a comment after the interview, along with your email address and voila! you are now in the draw for that author's book on the blog site they are being hosted by.
SOMETHING FRESH SERVED HOT by BLMORTICIA (Book one in the SOMETHING
NEW ON THE MENU series)
Come and meet BLMorticia at Blood, Lust and Erotica on 22nd & 23rd November.
BL will also be appearing on Lindsay's Scribbles on 29th November.
STAR SEARCH by JULEZ S. MORBIUS
Fun and games on BL Rawiya's blog when they interview Julez on the 21st November.
POETS by DANIEL BURNELL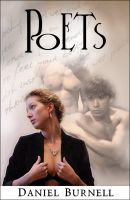 Daniel is being interviewed by the Naughty Nights Press team on 29th and 30th November on the Naughty Nights Press blog.
Now along with these interviews, we have a group of Naughty Nights Press authors who will be taking over BL Rawiya's blog site for ten days.
These authors are:
11/21 Julez Morbius
11/22 Tessa Wanton
11/23 Abby Hayes
11/24 Kiki Howell
11/25 Sarah Bella & CM Owens
11/26 Ken Charles
11/27 Ana Hart
11/28 Gemma Parkes
11/29 Chrystian Marrero
11/30 Cree Walker
12/01 John Simpson
Now come on, tell me this is not 'THE' way to end a most magnificent month. Oh and don't forget Chit Chat and All That! this Monday on Naughty Nights Press blog.